Some new pantograph patterns arrived this week. I thought I'd share some details of each of them over the next few days/weeks.
First up, we have Spring Garland. This is a fun design, with flowers, butterflies, and ribbons.  It looks great on a bright fun quilt. You can see the design here on the back of my quilt – a slightly contrasting thread means you get to see the details of the quilting design.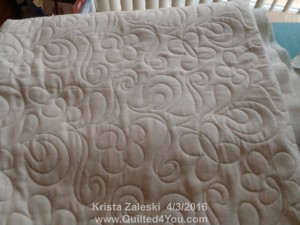 On the front, the thread was chosen to blend with the fabric, so the emphasis is on the texture, rather than the details of the design.